The Honeywell CT30XP is the ideal modern mobile computer for fast-paced retail environments.
Thin and light, but still tough—it can fit in your pocket like a cell phone. The CT30XP is designed for the people who will use it most: managers and associates in stores who need to deliver a modern, customer-centric shopping experience.
The CT30XP does it all:
Data lookup
Voice, text, and media communication via Smart Talk
Task management
Customer engagement
Quick, easy code scanning
Contactless payment
CT30XP Mobile Computers for Retail Applications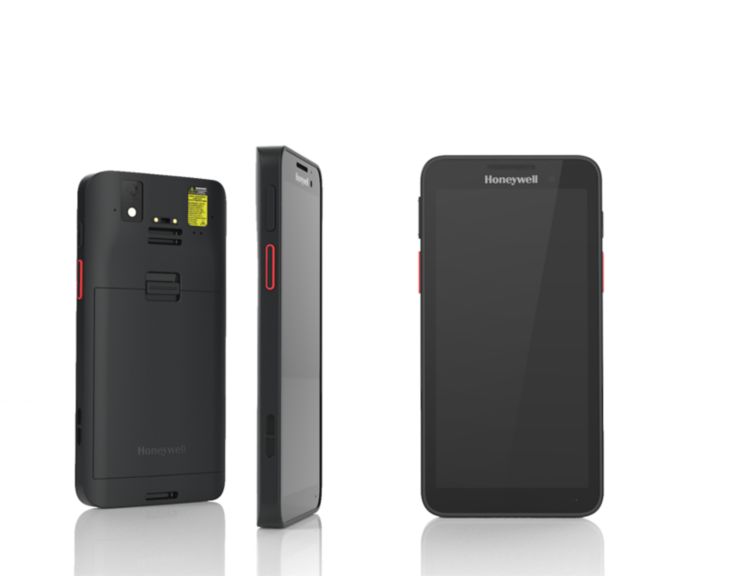 Honeywell's CT30XP has been designed for ease of use and better customer service. Its elegant form factor is perfect for users familiar with mobile touchscreens, yet it's built for the enterprise (complete with IT support, secure updates, maintenance, condition, location, use, and mobile device management through Mobility Edge and Op Intel from Honeywell). The radiant, 5.5″ high definition touchscreen display is a sight to behold.
Advanced Retail Scanning
Adaptive, feature-rich, and breakthrough performance with full Android 11 to 15 compatibility. The FlexRange scan engine provides accurate, fast long range scans when you need to wow a customer on the spot with a price or inventory lookup.
Wi-Fi 6
Better range and connection reliability – all while requiring less power consumption in stores where utilization and overhead reign supreme.
Universal, Purpose-Built Accessories
Including a universal dock charger family, IH40 RFID, belt clip, and hand strap.
All-Day Fast Charge
USB-C 3.0 charges up lightning quick, with a battery life of 8+ hours. In peak seasons, the battery swap comes in clutch.
See the CT30XP in Action
For detailed technical capabilities, download the Honeywell CT30 XP spec sheet here.
Customers Who Enjoy the In-Store Shopping Experience Return
Don't delay. Your shoppers expect a modern, quick in-store experience. Looking up inventory, price comparisons, and finding the item they loved online are all made much easier with the Honeywell CT30XP.
Contact us today to take a look at a full-scale solution that will take your shopping experience to the next level.
After being confined to their homes for almost a full year, over half of American consumers undertook home improvement projects, leading to increased sales amounting to nearly $400 billion[1] in revenue in 2020. However, along with increased sales came new customer expectations, demanding more from home improvement stores. To keep up with current trends, retailers are expected to provide:
Stress-free tool rental – Reverse logistics has posed issues to many storefronts in the past, yet tool rentals have been expected to increase store revenue as customers are more likely to make additional purchases and refer retailers offering rentals.
Faster customer assistance – While customers still expect amiable and personalized shopping experiences, the average expected wait time for customer service is around 2 minutes[2] or less.
Contactless curbside pickup – Following the COVID-19 outbreak, at least 59%[3] of consumers still plan to use contactless curbside pickup due to convenience and speed.
Build a shopping experience that exceeds expectations with Barcodes, Inc.
Product and price are no longer the only driving factors when it comes to retaining customer loyalty. That's why Barcodes, Inc. partners with leading tech players like Zebra Technologies to optimize the entire shopping experience. Readapt home improvement storefronts to integrate…
Intelligent RFID store visibility – Facilitate shelf replenishment when you keep inventory accuracy rates at 99.99% with best-in-class technologies like Zebra's RFID sensors.
Wall-to-wall connectivity – Keep workers connected to each other and current inventory levels, preventing out-of-stocks while providing quick service with as many resources as needed available.
Contactless checkout – Reduce customer density and prevent germ spread with multiple contactless payment options such as self-service kiosks and curbside pickup.
Around the clock support – From initial solution design to ongoing maintenance, BarcodesEDGE services simplify device procurement and deployment for faster uptime and noticeable ROI.
See how Barcodes, Inc weaves Zebra's best-in-class technologies into the modern storefront in our flyer.
Go beyond customer expectations with a modernization solution centered on your goals. Contact Barcodes, Inc. today for a free consultation to get started.

---
[1] Home improvement market size in the United States from 2008 to 2024. Statista
[2] "Servicing Customers Essential for Home Improvement Retailers to Differentiate, J.D. Power Finds". J.D. Power. Jun 11, 2020.
[3] Jansen, Caroline. "After COVID-19, is curbside delivery here to stay?". Retail Dive. May 14, 2020.
Price, convenience, and speed are key trademarks when it comes to current customer expectations. However, positive customer experiences have also become a driving factor in securing customer loyalty and profitability. Studies show that shoppers can spend up to 140%1 more after engaging in a positive shopping experience. On the flipside, negative experiences are more likely to be shared between current and prospective shoppers, impacting brand identity and decreasing sales. While expectations can vary from brand to brand, today's customers generally anticipate…
Omnichannel options – Online shopping is most certainly here to stay. It is expected that as much as 70%2 of shoppers in the US will be purchasing groceries online since it serves as both a convenient and safe way to shop.
Contactless pickup – Similar to online shopping, BOPIS and curbside pickup have also grown in popularity due to their convenience and safety.
Personalized experiences – Studies show that 43%3 of customers expect some sort of personalized service from stores in response to their loyalty.
What would seamless hassle-free grocery shopping look like?
To surpass these three common expectations, Barcodes, Inc. recommends targeting the following areas within the supply chain.
Faster shelf replenishment – Simply put, if products aren't visible on shelves, customers can't buy them. That's why quick cycle counting and fast replenishment are crucial to avoid out-of-stocks. Mobile technologies such as Zebra's touch computers and hands-free scanners can enable real-time inventory updates as associates scan products immediately during stock counts.
Intelligent point-of-sale – The longer customers wait in line, the less likely they are to return. Faster data capture through devices like Zebra's enterprise scanners and MP7000 scanner can help accelerate checkout while empowering self-checkout lanes and loyalty scanning.
Quicker order picking – As associates adapt to accommodate BOPIS transactions, they must move faster and more efficiently to assemble orders within stipulated time frames. Real-time inventory locationing can help reduce pick paths, accelerating order assembly.
Download our solutions brief for more areas of optimization.
While these are optimum areas to start enhancing the grocery storefronts, there are many other ways to deliver seamless shopping experiences. Leverage Barcodes, Inc.'s expertise in developing a smoother shopping experience, equipped with user-friendly technologies that put the customer experience first. Contact us today for a free consultation.

---
1 The true value of customer experiences. Deloitte. 2018.
2 Djordjevic, Milos. 20 Incredible Online Grocery Shopping Statistics for 2021. Save My Cent. Feb 6, 2021
3 Wollan, Robert et. al. Put Your Trust in Hyper-Relevance. Accenture Strategy. 2017.
---