Understanding Datacard Ribbon Types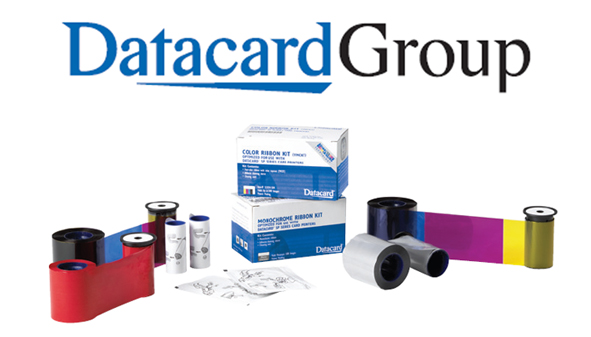 Making sure you have the right type of ribbon for your Datacard ID Card printer is crucial to getting the most out of it. That said, it is not always very clear what the types of ribbon are for especially when acronyms like YMCKT and YMCKT-KT are used. Having the right type of ribbon for your specific needs will help reduce media costs and increase your printing efficiency.
The first concern when choosing a ribbon is if you are doing monochromatic(single color) or full color printing. Monochromatic printing is easy since the only concern is making sure the ribbon cartridge is matched to your printer model and the color you want.
Most applications, however, need to print full color cards and this is where all the acronyms start coming into play. Most commonly, cards are printed in full color on the front and are either blank on the back or only printed in black. In both of these cases there are different ribbons that should be used to print accurately and efficiently.
YMCKT
This type of ribbon is the standard full color ribbon you would use for single sided printing. Each of the letters stands for a color and then a clear topcoat. When you print out a card, all the colors are used within  the ribbon to create the image with a dedicated black panel. The topcoat is a finishing layer to improve the longevity of the printed image.  Ribbons will be listed with a number of images they can produce, often 200-500, which is essentially the side a card you print. This type of ribbon is used for single sided printing in models like the SD260 as opposed to dual sided printers. The reason for this is that if you wanted to print on the back of the card in black with this ribbon you would be using up another image in the cartridge and wasting the YMC part of it. It would work, but you'll be drastically wasting your image count and end up spending twice as much on ribbon.
YMCKT-KT
This type of ribbon is just like the YMCKT ribbon but has an additional 2 panels of black and topcoat dedicated for printing on the back of a card. These ribbons also have a limited number images but each image count also includes printing on the back of the card. This type of ribbon is the most efficient way to do double sided printing on printers like the SD360 without wasting any ribbon.
Having the right ribbon in your printer will keep your media costs at a minimum and ensure the longevity of your printer. If you need any assistance with any Datacard product, contact us at Barcodes Inc.