Advertisers Only A Snapshot Away With 'Tag' Technology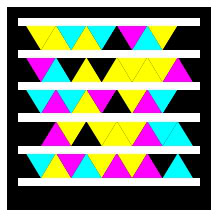 A popular technology overseas that links mobile users to the ever-evolving world of advertising is gearing up for its debut here in the U.S. NY1's Adam Balkin filed the following report.
It's a use for the mobile phone that's taken off in Japan, and now Microsoft is hoping to bring the same excitement to the United States. In Japan, they're black and white and called "quick response" or QR Codes. Here they're color and called Tags. Tags are kinda like high-tech barcodes that you take a picture of with your cell phone's camera. The image then immediately takes you to wherever the creator of that tag wants to take you online.
"Using the camera on your phone, you can read a Tag and be taken to a website for information, you can get contact information, you can be provided text information," said Kevin Kerr, Microsoft. "So imagine reading a Tag at a movie theater and being able to play the trailer for that particular movie, or reading a Tag for a particular product at a store or a sign at a bus stop to understand when the next bus in coming for that particular bus stop. So these Tags can exist in magazines, you can put them in posters, on websites, digital signage."
While these types of technologies have been tried in the past with little success, those who own a G1 Google phone have recently warmed to the idea thanks to an application that lets you snap shots of barcodes on products and instantly comparison shop online.
In fact, those QR Codes started a test run a year ago in San Francisco. So why do Tag developers think their concept is the one that will finally take hold? And the other obvious question — why not just link to barcodes that are already all over the place?
"The QR Code and those other things are black and white. They were designed for industrial usage. These are colors, so we have the ability to do logos and other things that are much more interesting," said Kerr. "If you want to target demographics with this new type of mobile technology you have to do something interesting as well as functional."
Tags work on just about any phone with a camera, including iPhones. Go to www.gettag.mobi for the free download to make it work.
Right now, Tags are in beta, or development, which means anyone can go to www.tag.microsoft.com and create a Tag for free. What that Tag points to can be updated every day, or even every hour if you want. Microsoft says if, down the line, it does start charging to create tags, any created during the beta period will be grandfathered in and remain free forever.