CipherLab Releases the New CP60 Industrial Mobile Computer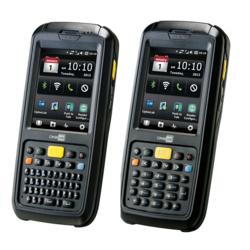 CipherLab has announced the release of  the CP60 industrial mobile computer. The CP60 is packed with flexible wireless communication options in 3.8G HSPA+, 802.11 a/b/g/n, and Bluetooth V2.1 with EDR. The CP60 goes one step further and provides 4G LTE option which allows you to transfer large amounts of data in a speedier time. Its embedded GPS/AGPS allows total navigational control.
Moreover, CP60 is armed with a 1GHz processor and multiple operating system options in Windows Embedded Handheld 6.5.3 and Windows CE 6.0 R3. It comes fully equipped with a large 4 GB flash memory and 512 MB SDRAM, which allows for extended storage of data and software. On top of all that, it provides versatile and accurate data capture with laser reader, long range laser reader, 2D imager and 5 megapixel autofocus camera. Your field agents are definitely ready to deliver a more efficient business operation.
"We understand that in order to stay above the curb we must provide cutting edge specifications, so we have developed one of the top mobile computers on the market today," explained Sherman Chuang, President of CipherLab. "With a powerful platform and good operating system options, we have faith that the CP60 has the capability of showing better results in harsh environments."
Aside from all of its advantages, the rugged design of CP60 with IP65 is proven to withstand harsh environments. It passes 1.8m drops onto concrete and 2,000 tumbles at 1m ensuring durability. The CP60 is built with both power and toughness.
For business with transportation and warehousing applications, CP60 gives you the capability to satisfy a wide range of tasks under rough environments. The CP60 features:
Flexible wireless options including 3.8G HSPA+, 802.11 a/b/g/n, Bluetooth V2.1 and optional 4G LTE
1GHz OMAP 3 processors DM3730
Powerful operating systems

Windows Embedded Handheld 6.5.3
Windows CE 6.0 R3

Rugged designs with IP65, 1.8 m drops onto concrete, and 2000 tumbles at 1m
A high capacity of 4 GB flash memory and 512 SDRAM
Laser reader, long range laser reader, and 2D imager options
5 megapixel autofocus camera
Industrial grade GPS with high accuracy
Free software tools for fast and friendly customization
For more details on the CP60, contact us at BarcodesInc.