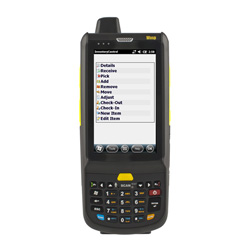 Wasp Barcode has announced the latest edition to its robust mobile computer line-up with the launch of the HC1 Mobile Computer with 26-key numeric keypad. While the 26-key numeric might be new, the already popular HC1 Mobile Computer with QWERTY 44-key keypad continues to gather rave reviews.
he Wasp HC1 mobile computer combines fast, reliable, rugged construction with the flexibility and versatility you need for today's aggressive business environments. Effectively scan 1D barcodes with the HC1's integrated laser scan engine, and instantly download your data back to a PC using the built-in 802.11 a/b/g wireless connectivity
Mobile point-of-sale payment terminals have experienced explosive growth over the past year. Unlike a traditional point-of-sale terminal, a mobile terminal communicates wirelessly when processing payment cards. There are different types of solutions in the market, but one popular type is an application within a mobile device, like a smartphone or tablet, that uses a hardware attachment to swipe payment cards.Merchants who use these solutions should remember to comply with both existing and evolving legal and card association requirements, particularly as other new payment acceptance solutions, such as integrated chip (IC) and near field communication (NFC) point-of-sale terminals, are adopted widely.
---