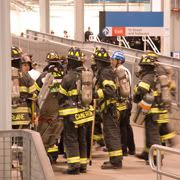 Safer and Sound. In the aftermath of the September 11 terrorist attacks on the World Trade Center and subsequent anthrax outbreaks, decision-makers at the New York City Department of Health and Mental Hygiene (DOHMH) took a new look at how environmental and radiation scientists and sanitarians gathered data following the events that would spawn a citywide public-health crisis. They found that some old methods no longer worked.
Simple things, such as providing locations for survey meter measurements, were rendered impossible. Before 9/11, department responders used pen and paper to record sample identification information and locations of environmental data measurements such as chemical concentration or radiation dose rate measurements.
To responders returning from field-testing and data collection, a data dump often required a good memory. "A lot of it was just recollection when they came back into the office with data," said DOHMH City Scientist Mickey Jones. "We'd ask, 'Where have you been? How did you get this?' We're trying to get response personnel off that mindset and into something much more organized, like this system is."
The system she refers to uses the Intermec 760 mobile computer and Global Bay HazardPoint software for environmental emergencies. Global Positioning System (GPS) is used to automatically record address and landmark-dependent location information.
Pen and paper are replaced by a wireless system designed to contain incident-specific data collection forms with GIS-based (Geographical Information Systems) city maps. Instead of bringing a disk back from the field for sensor data uploads, the system provides GPRS transmissions in real time.