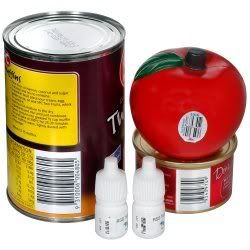 New barcodes lead to new possibilities. GS1 DataBars store more data than a standard barcode and give it potential for much greater functionality.

Look closely at recent supermarket coupons, and you may see some new markings on them near the traditional bar code: sets of neat black bars stacked in two rows. The new symbols, called GS1 DataBars, can store more data than traditional bar codes, promising new ways for stores to monitor inventory and for customers to save money.

One use of the symbols will be in sophisticated coupon offers that combine deals on multiple products, said Jackie Broberg, who leads coupon control management at General Mills in Minneapolis. Another use is already helping to streamline operations for a common speed bump in the checkout process: loose produce. During the past three years, for example, the Loblaw Companies, the big Canadian supermarket chain, has gradually switched to scannable, miniaturized DataBar labels pasted onto some fruits and vegetables. The system also prevents cashiers from mistaking organic vegetables for less expensive, conventionally grown ones.
Continue reading: The Bar Code Is Taking a Leap Forward