Barcoding News
Data tracking news, product updates, tips, and more
Designed to fit in the palm of your hands, the Janam XM70 is a real task master that can survive all- day use in challenging environments. Made to deliver maximum return on investment, it is equipped with future proof mobility that provides support for Android and Microsoft Windows Embedded 6.5 OS. Check out the video below to see how the XM70 can give you more power and flexibility in your daily operation.
Put our knowledge and experience to work for you, contact us at Barcodes Inc for any questions or quotes.
An all-purpose built, flexible, rugged tablet that can withstand the rigors of everyday use in any enterprise. The XT1 is designed to improve operational efficiencies and increase productivity for workers in field services, hospitality, retail and healthcare. Play the video below to check out the features of the XT1 rugged mini tablet.
For any questions or a quote, contact Barcodes Inc for a dedicated solution provider.
Transform your iPhone, iPod, and iPad mini into an enterprise- ready device with Honeywell's Captuvo Sleds, equipping your workers to improve workflow and performance. Check out the features below of the all the sleds and see how it can fit into your daily operation to help you increase productivity and improve customer experience.
The Captuvo series features an integrated scanner paired with Adaptus Imaging Technology 6.0, delievering fast and accurate reading linear or 2D.
Employees can easily have instant access to product information and enables customer checkout anywhere in the store.
Optional Encryption Ready Magnetic Stripe Reader to facilitate quick and easy sales transaction
Protective housing provides added durability to the iPhone
Provides up to 60% additional power to last a full shift
Easy DL software to parse barcode data found on identification cards for age verification, loyalty, membership or electronic forms
Available also for the iPad Mini, compact and easy to hold with one hand. The Captuvo SL62 is compatible with various applications such as price and product look up, inventory management, and purchases at point of sale.
For any questions or a quote on any of your scanning needs contact us at Barcodes, Inc.
Built to withstand harsh environments and everyday use in demanding work spaces, Janam's XG3 enables workers to increase productivity and operational efficiencies. Optimized for scan-intensive and extended shifts, check out the short video below to see how the XG3 fits in your daily operation.
Put our knowledge and experience to work for you, contact us at Barcodes Inc for any questions or quotes.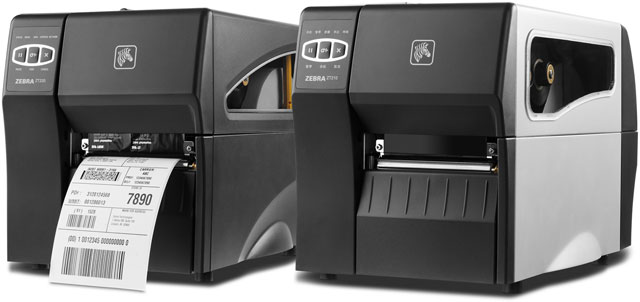 The ZT200 Series offers a streamlined design and a smaller footprint that takes up less physical space. This series of Industrial Printers require minimal operator training and benefit from an effortless setup, intuitive operation and easy service and maintenance. The ZT200 Series was designed from the culmination of extensive customer feedback to fulfill the customer and the ever-evolving business needs and operational challenges.
Zebra's ZT200 series comes in two models, the ZT220 and the ZT230. The ZT220 is their most affordable industrial printer and comes with a durable high-impact polymer case for long-lasting use. The ZT220 has a simple-use three button user interface and has a ribbon capacity of 984′ (300m). It's ideally suited for barcode labeling applications where minimal format or printer setting changes are required. The ZT230 comes with a rugged all-metal case suited for long-lasting use. The ZT230 a graphical LCD user interface for easy printer setup and control; it also has a ribbon capacity of 1476′ (450m) giving it an increased uptime and fewer ribbon changes. It's ideally suited for barcode labeling applications requiring more frequent format or printer setting changes through use of the intuitive user interface.
ZT200 Series Features:
Print methods: direct-thermal or thermal-transfer (optional)
Construction: metal frame with choice of metal (ZT230) or plastic (ZT220) media cover
Bi-fold media door with large clear window
Side-loading supplies path for simplified media and ribbon loading
Thin film printhead with E3 Element Energy Equalizer for superior print quality
Bi-color LEDs for quick printer status
Icon-based LCD multilingual graphical user interface and full functioning keypad (ZT230)
Simple keypad (ZT220)
Communications: USB 2.0 and RS-232 Serial ports
ENERGY STAR qualified
Mobile workers often times are seeking the most rugged device that can enable better communication to help them do their jobs more effectively and efficiently. Made for today's road warriors, Janam's XT2, engineered with the right features at the right price. Start the video below and check out the features of the XT2.
For any questions or a quote, contact us at Barcodes, Inc.
Besides the movie that you are going to watch, the ticketing system are integral to the cinema experience as well. Kiosks can be used to purchase tickets, retrieve tickets bought online, and to place concession orders. This is especially important for movie goers who arrive with just a few minutes to spare. They can bypass the line to purchase tickets or snacks and still make it in time before the movie starts.
To make sure your cinema kiosk is reaching its full potential by considering these 4 things:

1. Your Kiosk should support a thermal printer– A cinema kiosk should support a heavy duty thermal printer with a jam free system to produce tickets in the fastest way. Star's SK1-21 Kiosk Printer two inch series provides dependable, maintenance- free printers that have a fast print speed of 200mm/ sec with 203 dpi resolution. All SK-21 models will intergrate with many commonly used kiosk solutions. It provides high speed, reliability, and will integrate in your kiosk seamlessly.
2. Barcode Scanner- Movie theaters often offer their own loyalty program to keep the customers returning back.  Your customers love freebies and accruing points towards free movie tickets, so don't keep them waiting on the full service line to rack up the points.
3. Integrated Speakers- Talk to the customer through the ticket buying process. This is important for those who aren't familiar with the self-service kiosks check out.
4. Card Payment Acceptance- Not everyone carries cash, so make sure that your kiosk is equipped with a card reader and payment processing platform.
Check out the video below on a successful self service kiosk integration at Nitehawk Cinema.
For any questions or a quote on any of your printing needs contact us at Barcodes, Inc.
Printronix's T8000 barcode printer does it all. Their online data validation (ODV) eliminates compliance fees with automatic barcode validation. It is available on the T8000 and T6000 thermal printers. It ensures that all barcodes meets scanning standards and reduce unnecessary compliance cost.
With their ODV technology, you can:
Deliver 100% scannable barcodes to your production area
Eliminate unscannable barcodes from entering into your supply chain
Reduce labor and costs and downtime
Eliminate charge backs due to refused or delayed shipments
Capture and display the raw data within each barcode, to provide further assurance that critical data is printed correctly
Additionally, coming soon built on the robust T8000 printer platform, the ODV-2D barcode printer. Printronix will have a new printer that is set to release in early 2018 which includes a built in data validator that grades both 1D and 2D barcodes to ISO standards and stores a detailed report of each transaction. The new technology will be able to read each barcode, overstrikes the label of a rejected barcode, and reprint a new label.
For any questions or a quote on any of your printing needs contact us at Barcodes, Inc.
The ZC10L is the only large format, direct to card printer that can print full, edge-to-edge color cards in one printing process. ZC10L gives you the ability to produce custom, oversized badges, for sporting events, concerts, special events, and festival badges on the spot in full color. You will have the benefit of avoiding hassles of ordering and inventorying pre-printed cards for various level of guest access at events. With the ability of printing cards on demand, you'll be able to customize them for individual guest needs. This will add personalization, reduce waste, and eliminates the risk of running out of a specific type of card should attendance change.
Zebra's large format card printer will print in 300 dpi giving you high-quality designs. The ZC10L gives you the ability to customize the backside of cards with guest instructions or fine print content. With this card printer you won't need to bother with partially pre-printed cards.
ZC10L Features:
USB Connectivity.
400 card capacity feeder.
100 card capacity output hopper.
Multi-status LED operator display.
300 dpi print resolution.
64 MB memory standard.
Zebra CardStudio Classic card design and issuance software.
Optional Zebra OneCare Service Program
Direct to card print technology
Single-sided print capabilities
« Newer Posts — Older Posts »
---