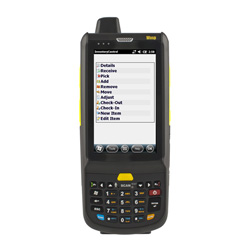 Wasp Barcode has announced the latest edition to its robust mobile computer line-up with the launch of the HC1 Mobile Computer with 26-key numeric keypad. While the 26-key numeric might be new, the already popular HC1 Mobile Computer with QWERTY 44-key keypad continues to gather rave reviews.
he Wasp HC1 mobile computer combines fast, reliable, rugged construction with the flexibility and versatility you need for today's aggressive business environments. Effectively scan 1D barcodes with the HC1's integrated laser scan engine, and instantly download your data back to a PC using the built-in 802.11 a/b/g wireless connectivity
The 26-key numeric keypad on the HC1 make sense for those customers who input a large amount of data specifically using numbers and is fully integrated with Wasp Inventory Control software solutions to be your all-in-one complete tracking solution. Additional Inventory Control mobile device licenses can be purchased with either HC1 keypad configuration.
For any questions or assistance in finding the right mobile computer for your application, contact us at BarcodesInc.