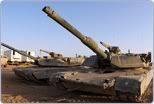 From weapons to desks and chairs, the U.S. Army relies on the Property Book Unit Supply Enhanced (PBUSE) system to track Army assets and automate property accountability processes across the supply chain while providing for greater visibility of these assets. PBUSE, the U.S. Army's Web-based property accountability and tracking system, is part of the Global Combat Support System for both garrison and tactical units. Intermec solutions are at the core of helping PBUSE minimize their inventory tracking costs.
The Intermec solution consists of the CK61 rugged mobile computer and the PM4i Thermal Printer. This solution covers close to 13,000 military locations and manages tens of millions of inventory items for the Army at any given time. By minimizing the footprint cost on and off the battlefield, the Intermec solution has improved inventory asset management by 80 percent, saving the U.S. Army over half a million dollars in permanently lost or misplaced inventory and additional costs to individual soldiers.
At a critical time in the U.S. Army's history with two major wars taking place, the Army has no room for error when it comes to keeping track of equipment on the battlefield, as well as, in the warehouse. However it has become increasingly difficult to track inventory, particularly as it relates to deployed units. Due to a paper-based, data entry, receipt system, PBUSE has been hampered by inefficient asset tracking processes used to confirm inventory.
Operation: Improve Asset Management
Intermec Technologies was enlisted to provide a rugged mobile computer and a printer solution that would eliminate paper from the inventory process, resulting in (1) increased visibility for asset-tracking efforts, (2) enhanced accuracy and efficiency for Army commanders and property book officers and (3) a smaller operational footprint resulting in more environmentally responsible business practices for the Army.
The Army selected Intermec CK61G rugged mobile computers and PM4i barcode printers to streamline PBUSE operations and speed up asset management capabilities. The need for extra funding due to inventory errors has been significantly decreased. More importantly, better identification of equipment helps to ensure that the soldiers, engaged in or preparing for real-word operations, are provided with state-of-the-art individual weapons, clothing, and equipment in a timely and efficient manner.
Plans for worldwide deployment of the Intermec PBUSE solution are underway for the Army. Kits are available in the form of large transit cases, adaptable to any product configuration, built for soldiers to transport. The Army plans to conduct their supply operations purchases for automatic identification technology products under the AIT III contract with Intermec Technologies.
Intermec Technologies is the prime contractor of the PM-JAIT contract for Automatic Identification Technology products and services. The AIT III contract vehicle allows the Army to make easy and timely procurements to meet their critical military needs.