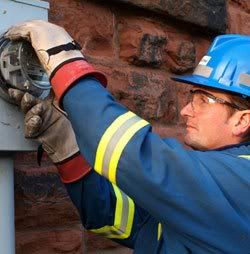 The challenge: find a cost-effective connectivity option to support
Automated Meter Reading (AMR) and Supervisory Control and Data Acquisition (SCADA) applications.
A few years ago, Wisconsin Public Service Corporation began exploring using alternate communications to support SCADA and AMR applications. The company was paying in excess of $100,000 per year in the city of Green Bay alone to lease four-wire circuits to connect its AMR head-end to its substations. In addition, the company was using a low bandwidth fixed radio system for SCADA operations for many of the same substations and it soon realized that the 2400-baud connection that the low bandwidth fixed radio system offered would not be enough to support long-term SCADA applications.
To meet the long-term SCADA needs, which included process control applications such as remotely checking power flows and status of the breakers in real-time, the company required additional circuits which would have put its leased line costs in the city of Green Bay alone at more than $200,000 per year.
Wisconsin Public Service immediately began looking for another solution to meet its connectivity needs. Company engineers explored many options. They considered using fiber, but soon discovered that even though the utility already had an extensive fiber network in place, running fiber to its substations in Green Bay would cost upwards of $1 million. The company also looked at options such as frame relay, cellular and satellite links and quickly rejected them, given their low throughput and high ongoing costs.
The solution: a high-speed wireless communications link that provided the right bandwidth for the right cost – and put Wisconsin Public Service in control.
After careful consideration, Wisconsin Public Service took a look at unlicensed wireless solutions. The appeal of these services included ease-of-deployment, low maintenance needs, reasonable cost, high capacity and proven reliability. The opportunity to own and control its own communications network also appealed to the utility.
Wisconsin Public Service reviewed many different unlicensed alternatives and selected Motorola's Fixed Point-to-Multipoint Canopy® platform. Company engineers chose the Canopy solution based on its low cost, wide coverage, ability to support IP and its superior security. Two other big pluses: The throughput of the Canopy system is not affected by distance and is extremely resistant to interference. Wisconsin Public Service executives considered these characteristics an essential requirement for an unlicensed network. Another very important consideration was the ability to securely implement the solution. This was accomplished through a combination of Canopy security and external third-party tools and products.